Neele Dijkstra | 9 August 2023
Mastering the Craft: A Journey of an ML Engineer's First 10 Months at Enjins
When everyone had to work from home during the COVID-19 pandemic, most people disliked it. For me as Master's student in Artificial Intelligence, the worst part was having to do my internship by myself at home. When I graduated in the spring of 2022, I was looking for in a job were teamwork and direct interaction played a big role.
I received a message from Enjins on LinkedIn, that showed their interest in me. When you study something in the realm of data science and IT, it is not uncommon to be approached by recruiters on LinkedIn daily. Still, this message seemed different: Enjins appeared to have looked at my profile and approached me by referring to my past experiences and interests. After an initial online meeting, I decided to apply for the job: Machine Learning Engineer.
MLEAP onboarding training
My first month at Enjins in September 2023 was filled with onboarding trainings and getting to know my colleagues. Together with two other new Machine Learning Engineers, I followed Enjins' MLEAP (Machine Learning Acceleration Program) trainings that helped to close some first gaps in my ML engineering knowledge. During the trainings, I refreshed coding principles, which helped me structure my Python programming methods in a standardised and readable format. In addition, I followed trainings on database structures and git version control, the workings of which were visualised in an interactive manner. I also followed a training on presenting and conducting audits, and obtained a certificate in AWS cloud engineering. The trainings helped me improve my existing skills, as well as bringing everyone on the same level at the beginning of the job, so we could thrive as a team.
In the hours in between training, I drank coffee with colleagues or went for walks around the grachten in Utrecht, talking about everything on- and off the job, getting to know both my colleagues and the city, which really helped me feel welcome and more at ease. In addition, I got assigned a buddy: this is a colleague who is roughly at your level (in my case, they started a couple months before me) who you can go to with informal questions about anything surrounding work. I had a coffee with my buddy every couple of weeks throughout my first three months at Enjins, and this was not only nice for questions, but also just to process all the changes that happen when you go from student life to 9-5 life.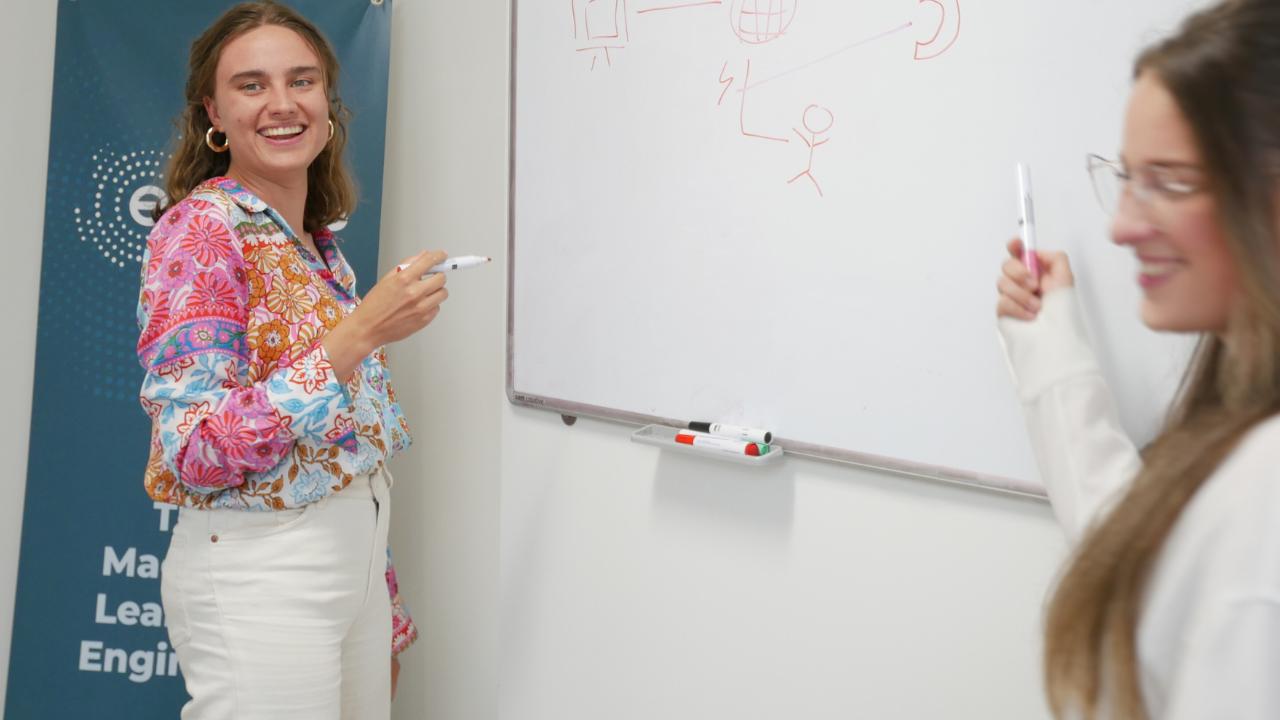 In my second month, I started my first project, at one of Enjins' long term clients, a book retailer, where an Enjins colleague and I worked with the client to get the engine we built to production. Every Tuesday, my colleague and I would go to their office, about half an hour from Utrecht Centraal (one of the exciting things about working as a consultant for other businesses is seeing how different offices are run!). The project was already in an advanced stage by the time I entered, so it took me a couple of weeks to understand the enormous code base and long history of decision making. To contribute to that, the project was handed over to me by a colleague, who made sure I got a good handle on one part of the project before introducing something new.
At this client, we are building a recommendation system that uses data from multiple sources and organisations. With this project, and it was reconfirmed in other projects later on, I realised, that the most important part of building a machine learning model is the data quality, which is a matter that we at Enjins are very adamant about. When we conduct a first audit at a new client, we ensure the data quality is up to par. During the first period of the project, I learned to ensure good data quality, object oriented programming, and communicating with stakeholders. If I ran into an issue, I could take it up with my colleague on the project or with my lead: this is a senior colleague that coaches you throughout your career, whom you can ask questions about projects, technical issues, clients, and so on. They also help you set your MLEAP (Machine Learning Acceleration Program) goals: more on that later.
Personal and Professional Growth at Enjins
While I grew into my role as engineer and consultant, I was getting more involved in Enjins as a company. I thought it was exciting to participate in the "Quarterly Planning", where we as employees could suggest and vote on ideas that we thought should be realised in the upcoming quarter. In this first Fall period, we even had a "Yearly Enjins strategy day" in which we went over Enjins' past and upcoming year, before having dinner in a brewery in Utrecht. One of the things I like about Enjins as an employer is that even as a junior, you get involved in where the company is going: your opinion is really valued and listened to.
In addition to gaining more machine learning experience, I got to know my colleagues better at the "vrijmibo" drinks on Friday afternoons. Usually, a couple of us get together, have a few drinks and share stories from our personal lifes. Every now and then, the party committee organises a bigger event. The highlight is definitely the Christmas Party (I didn't recognise the inside of the office, it was so well-decorated!), during which we had dinner, entertainment points organised by our colleagues and a bar tour through the city.
In January, shortly after Enjins established its second hub in Berlin, I defined my MLEAP goals: a set of goals all Enjineers set up together with their lead, with the aim of structuring our learning experience and focusing on personal growth. One of my first goals was to become more independent in working with clients, another goal was to participate in a project from the start onwards. After working on a long-term project for the book retailer, I wanted to experience a more fast-paced, short-term project, for which I could be there from start to finish. I was curious to see what comes before the end phase of a project, when the ideas are still plentiful and it is all about diverging and converging the design.
To that end, I joined an "audit" alongside my longer term project. The audit is the typical way that Enjins starts at a new customer. We talk with the C-level to understand the strategy and then continue to shape the AI strategy, which includes a detailed plan around the most important use cases and the needed ML infrastructure to realize this.
In this case, the company, a legal organisation, wanted a data analytics platform, and I was in charge of data quality and governance. In my other project, I had learned a lot about data quality, so it was very satisfying to be able to apply this knowledge in a new situation. It was exciting to see the idea take more shape as we went along, and to be able to present the client with our plan and give advice on what needed to happen on their side to help us accomplish this. I gained more technical experience about infrastructure design, but also learned a great deal on client communication and stakeholder management, as well as to ensure data governance practices are enforced.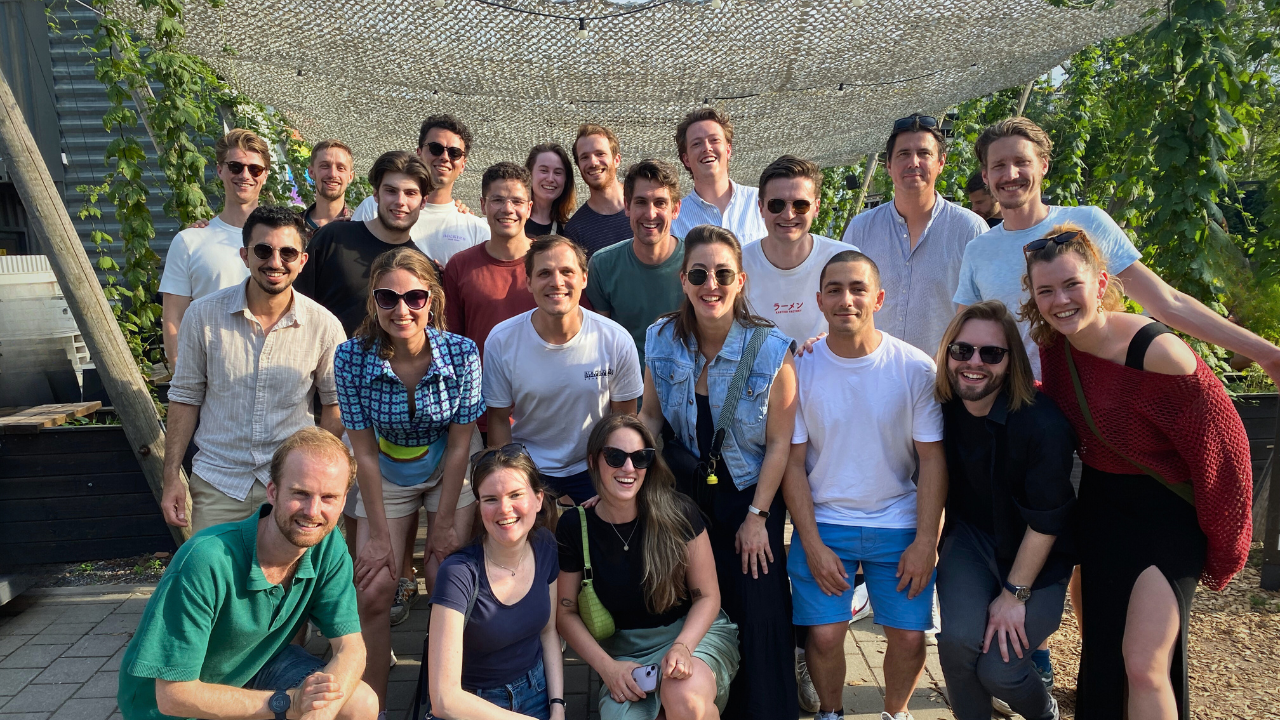 After that, I have worked on various more short-term projects, and by now, I have started on a second long-term project, where my focus is mainly on Machine Learning Modelling. In the half-year reflection of my MLEAP goals, I gathered feedback from colleagues, I noticed that I became a lot more independent in the past 10 months, which is supported by the opportunities I get in Enjins' projects to take initiative and be trusted with responsibilities. Additionally, the bond with my fellow Enjineers is also very good: recently, we all went on a trip to Berlin to celebrate Enjins fifth birthday. We visited our German colleagues and the Berlin Hub that is located in the Merantix AI Campus. We discussed Enjins strategy for the next five years and bonded with all colleagues on a more personal level during a scavenger hunt. I can definitely say that my goal of working in a social environment has come true!
Want to stay updated?
Please fill in your e-mail and we'll update you when we have new content!