Anouk Meerman | 7 August 2023
Empowering talents with our Machine Learning Engineer Acceleration Program (MLEAP)
At Enjins, we know that our biggest asset is our team, especially in the fast-changing domain of Machine Learning Engineering. To be on top of our game, we continuously challenge ourselves and invest in our professional and personal growth. That's why we created the Machine Learning Engineer Acceleration Program (MLEAP), which aims to provide our Enjins talents with guidance and perspective to excel in their growth journey.
Machine Learning Engineer Acceleration Program (MLEAP)
MLEAP is designed to enhance the skills and expertise of our Machine Learning Engineers. It entails a personalized development plan tailored to the individual's ambitions, strengths, and areas of improvement. The program entails the establishment of ambitious objectives, which include bi-annual reflections. Within Enjins, you'll find a nurturing environment that promotes ownership and provides space for acquiring knowledge and its practical application in our projects. Throughout your learning journey with MLEAP, you'll receive continuous guidance through coaching sessions and access to courses led by both internal and external experts. Tech Demo Fridays created reciprocal learning and collaboration, enabling Enjins' talents to remain at the forefront of advancements in ML engineering.
Apart from personalized development plans, MLEAP fosters a supportive environment within Enjins, encouraging knowledge-sharing and networking among employees. Tech Demo Fridays have become a platform for mutual learning and international collaboration, allowing Enjins talents to stay at the forefront of ML engineering advancements.
Three development tracks with MLEAP
Based on our core capabilities, MLEAP offers Machine Learning Engineers three distinct development tracks, each guiding individuals toward a leading role with its own characteristics. These tracks serve as guidelines for the development of our talents at any seniority level and have their own MLEAP coaches, courses and growth paths.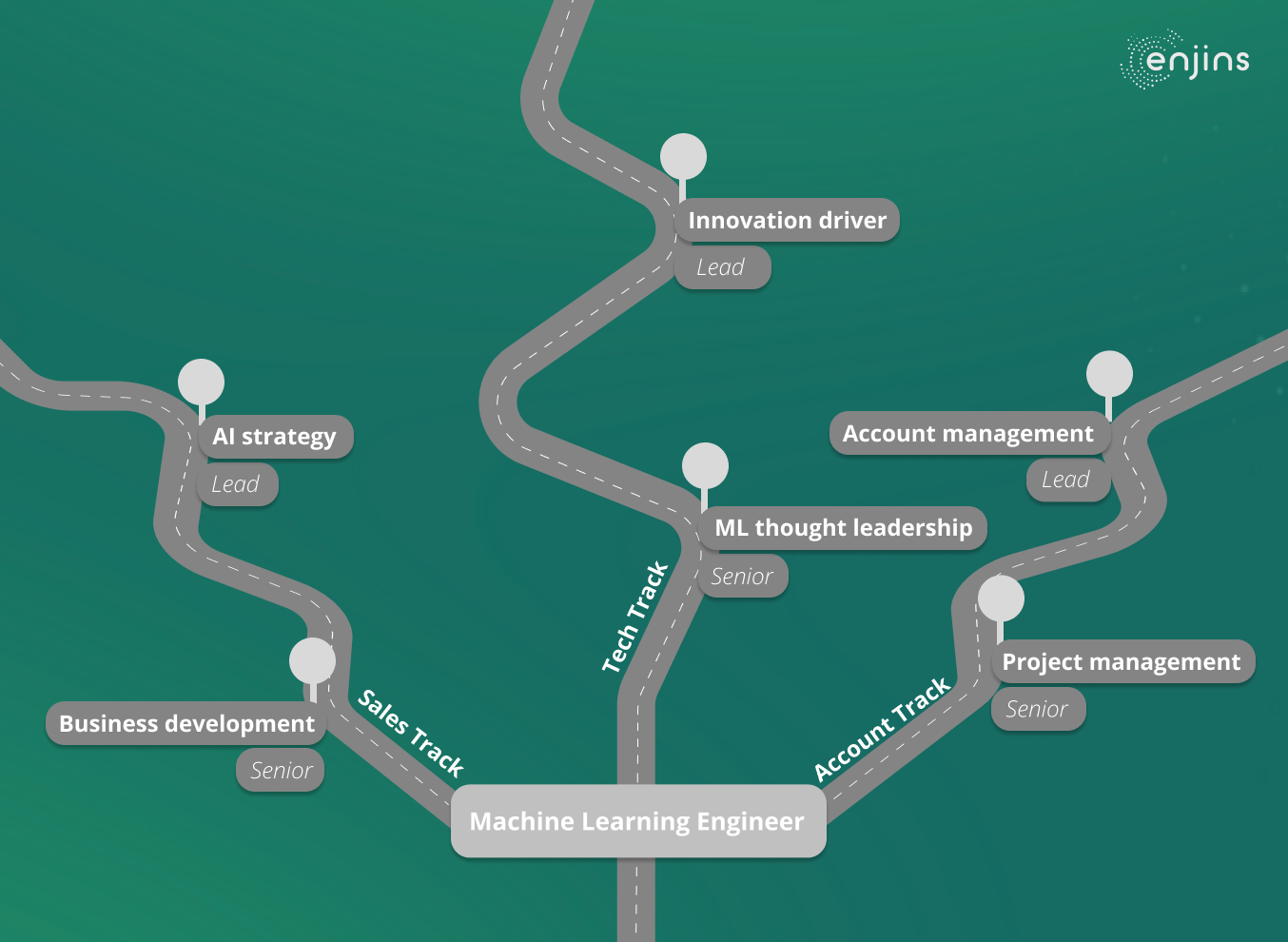 Tech Lead track:
Empower Machine Learning Engineers to evolve into a leading professional within our ML engineering expertise.
Evolving our technical view on continuous changing ML-architecture opportunities.
Drive technical excellence and foster innovation within the team.
Sharing knowledge and coaching others on technical level.
Improving our value delivery and a link between other fields of expertise.
Sales Lead track:
Provide strategic involvement in shaping our market approach as experienced Machine Learning Engineers.
Explore new business opportunities within the realm of ML engineering.
Overseeing what strategic AI needs and opportunities are for our clients.
Continuously improving our ML Audit approach.
Account Lead track:
Focus on cultivating and sustaining robust customer relationships to enhance satisfaction and retention.
Develop connections as proficient Machine Learning Engineers to better understand client needs and provide tailored solutions. Translating business value into technical ML solutions.
Overseeing progress and potential of all projects and new opportunities.
MLEAP accelerates the growth of our Enjins talents. With a focus on personalized development plans, three distinctive tracks, and a nurturing environment, MLEAP empowers our Machine Learning Engineers to reach new heights of professional success.
Are you ready to take your career to the next level?