Nick Jetten | 2 September 2021
How to succeed as a Marketeer at a fast-growing tech scale-up?
In February 2021, Lise Bonnecarrère joined Enjins for a growth marketing internship. In this interview, she shares with us how she experienced the marketing role at a fast-growing tech scale-up. She covers both the main tasks that she worked on, but also how she experienced the team (from being helpful, to being very direct and Dutch:)…). Enjoy reading!
What was your first impression when you met the team?
The Enjins team immediately gave me a good impression! Since I'mFrench, they tried to speak French with me, but baguette and croissants were basically the only things they knew. The atmosphere was extremely friendly and informal. Definitely what you can expect from an ambitious startup! At first I was worried about being the only international in the team, but they were very welcoming and always spoke English where necessary.
What were your assigned tasks?
My main task could be described as follows: helping to give talent and potential customers a great impression of what Enjins is all about. I did this by creating and coordinating valuable content on the website, as well as expanding the online channels and social media to reach our community and further shape Enjins' story. Besides this, I regularly analyzed our marketing performance, checking the most relevant key analytics via Google Analytics.
My more specific tasks could be summed up as follows:
Identifying and deploying lead acquisition tactics (mainly B2B)

Optimizing SEO through keyword research

Creating editorial content (blog posts)

Revising company photos with Photoshop (Stock photos, profile photos)

Creating a media plan to distribute our content on social networks and generate more traffic

Developing and manage the company's social networks (LinkedIn, Instagram)

Regularly analyzing the marketing performance of the company through the analysis of key data (Google Analytics: conversion rate, bounce rate, etc.)

Regularly reporting the company's marketing performance (Powerpoint, Excel)

Helping to execute the recruitment strategy
What was your biggest project?
In May 2021 we launched our new website, Enjins.com 2.0. It was really interesting to follow and participate to the entire project. From the designthinking stage to the development stage, I was part of the team. We worked closely with a web agency, Brendly, that provided advice on both the backend and frontend of the website. I was personally in charge of making sure the communication between Brendly and Enjins went smoothly. I learned a lot from working with them.
As a marketeer, it's a great opportunity to actively participate to the design thinking process. By working closely with the web agency, I learned how to use WordPress, edit images/logos and even code in HTML. I'm now regularly updating the website with new content and features. Besides this, I really improved my communication skills, precise working and creativity.
What did you like about being a Marketeer at Enjins?
I was happy to find the perfect balance between freedom and guidance. I had a lot of freedom and my own responsibilities, but at the same time, the team and Nick especially was always available to help and guide me. Also, since I did not have that much experience in the marketing field, Enjins also gave me time to develop my skills.
How was working at Enjins in general?
Enjins is a very ambitious and fast-growing start-up. This is noticeable on the work floor; it is a hard-working group of people that want to achieve as much as possible. I could definitely level with this working attitude. Of course, it does not mean that we do not laugh together! Every 2 weeks, Sophia organized a "little uitje" to build a connection between colleagues. COVID times made it harder but it did not stop her: even online, the events were fun! To give a few examples, we did an online fitness session, a foot-table contest or a drawing challenge. We are not only nerds!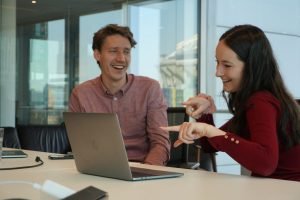 It took a little time to get used to the Dutch way of working: direct and efficient! Dutch people go straight to the point, "pas de politesse". It sometimes surprised me how direct the feedback that I received was, but once I got used to it, I could very much appreciate it.
Want to stay updated?
Please fill in your e-mail and we'll update you when we have new content!