Talent
Sophia Zitman
22 April 2022
Sophia's 5/2 years at Enjins
You have seen Enjins grow out of 2 offices and witnessed Deeploy become an official company, how do you look back at those events?
Yes, a lot of big things happened during my time at Enjins! In a way, it almost feels as if that is part of the game. Like something big will happen in the coming year too! Those events were of course very festive. But to me, the best thing was, seeing all the events that led up to it, come together. For example, I remember people talking about Deeploy as some experimental side project to spend time on if you had some to spare. When it became more serious, it started to feel like an actual project and before I knew it, it was a company of its own.
What do you recall as your first true Enjins experience?
During my time at Enjins, I got to experience so many different moments, of which many can be considered part-of-the-true-Enjins experience. So, it is hard to catch it in one, can I name two?
The first one would be the Christmas party before I officially joined Enjins. I started in January of 2020 but signed some time before, so I got invited to 2019's Christmas party. I didn't know what to expect, a reasonably fun night maybe. The evening started with nothing out of the ordinary but ended with so many good stories to tell; I remember waking up with a bit of a hangover and feeling that my -to be- colleagues became overnight friends who love a good party as much as I do. I'm glad that we get to repeat such a night every once in a while, having fun with your colleagues is part of Enjins.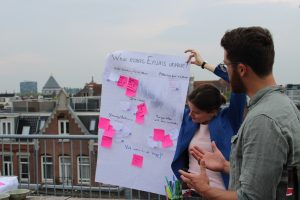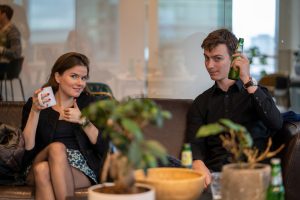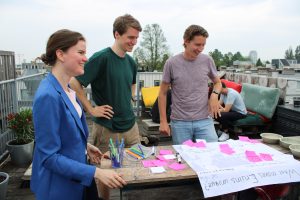 Another memorable event came sometime later; it was the moment where a model we (some of my colleagues and me) had been working on for quite a while, was taken to production. It was a rather large project with many data streams and integrations, so that feeling of accomplishment and relief was one that I won't forget any time soon. That day was marked by the many happy faces walking around and the countless 🥳  in our project chat. Being proud of your work and your work adding value in real-life applications is also a typical Enjins thing.
On what type of projects have you been working?
Rather many!
First of all, I have seen different types of companies; from fast-paced scale-ups that just raised funding to family-owned companies that have been in business for generations to larger non-profits. The type of company you work for impacts the feel of the project for sure. Different companies attract different kinds of people and I find it super interesting to observe and participate in those differences. Another way projects differ is by the type of work you do. Some projects are engineering heavy, and others are data-science heavy. I enjoy the projects where there is a lot of human interaction with the output of your ML applications. These are usually the projects where explainability is important too, I described such a case in this blog: https://enjins.com/xai-in-real-life/.
How has your work changed over your 5/2 years at Enjins?
I've gained a lot more responsibility; whereas my work started with having smaller tasks within a project, I now manage the daily operations of projects. I also learned a lot when it comes to data and software engineering, so my development tasks become more diverse too. That diversity is what I enjoy most: no working week is the same. I make ML models with customer explainers, I install Kubernetes on servers and automate tasks in Airflow, and I write contracts for clients and am a representative for Enjins when talking to the management of clients.
Lastly, why do you call it 5/2 years and not 2.5?
Haha, I guess I thought it was funny cause both ways of describing use the same set of numbers.
Hmm, I have a better or, I should say, more pretentious answer: My work at Enjins has been a tat exotic, hence a bit of an extraordinary way of describing does fit. But in the end, we do what we do: making cool ML applications, the kind you would expect. So, the essence of our work is nothing strange. We just switch it up a bit, as I did with the 2 and the 5 😉
Want to stay updated?
Please fill in your e-mail and we update you when we have new content!